Tottenham Industrial Premises

Services / Utilities
Electricity, Gas, Water. Tenants make their own arrangements with Utility suppliers.
Electricity. All Units are wired with lighting and both single phase 240 Vac power sockets and some 3 phase switchgear (details vary), all located in trunking runs. All intakes are terminated in a Distribution Board with mcb protection. Hastingwood will design, supply and fit additional supply capacity, lighting or Unit wiring to Tenant requirements.
Water and drainage services are available throughout the site, and all Units have well appointed toilet and kitchen facilities.
Gas is also available on site generally.
Heating. Half of the site (Units 6 – 11) is heated by a shared oil fired boiler running a low pressure steam heating system. This is augmented by gas fired central heating systems in office areas. Other units rely on gas fired space heating or gas fired central heating systems in office areas only.
Telecoms and Internet Connectivity
Tenants make their own arrangements with Utility suppliers.
Refuse Collection
Tenants normally contract with Haringey Council for refuse services.
Rates Advisory Service
We provide a free Rates Advisory Service to all our tenants which includes Appeals, Bill Checking and assistance with applications for Small Business Rates Relief.
Tenancy Agreements
We do all our own legal work using standard forms of Lease or Licence. These are fair, with no hidden extras or traps. A Tenancy Agreement is completed in your time scale - immediately if required. The service is free unless a tenant requests that solicitors are instructed.
Other Features
Fire Alarm System Units 6-11 are fitted with a Multi Zone Fire Alarm with automatic detection. The other Units have individual Alarms.
Asbestos Survey A detailed survey carried out in accordance with the new legislation has shown that there are no high risk ACM's on site. As the Occupier of industrial or commercial premises, you are legally responsible for a number of Health & Safety requirements including having an Asbestos Survey and Risk Assessment carried out. We can do this for you.
Amenity. Different Businesses require different levels of amenity within their premises. We employ our own team of building and maintenance staff and will be pleased to quote for alterations or additions such as additional offices, central heating systems, stores, or electrical work.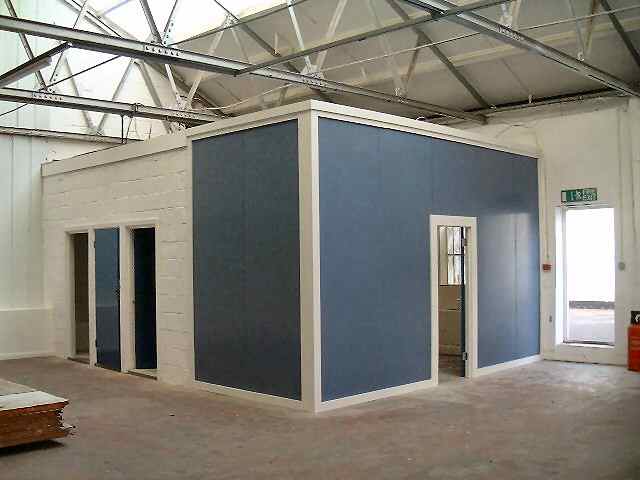 Works Office under construction